Best cutting process quality
▶ It can be used in microvia drilling, depanelling and contour-cutting application of Coverlay/FPCB/Flexible-Rigid boards.
▶ The cutting edge is clean, with little debris particle and little HAZ.
Programmable&process parameters
▶Programmable phases flow, to make process more flexible.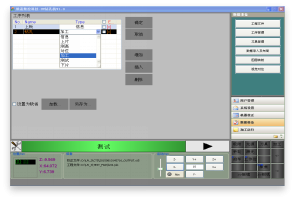 ▶Process scanning block one by one or layer one bye one.
▶The process loop can be nested for each entity, block, or whole panel.
▶Flexible process parameters settings and control. By adjusting laser pulse repetition rate, laser pulse spot overlap, burst or cycle cutting mode, block or layer scanning priority , two factors between HAZ effect and cutting efficiency can be balanced.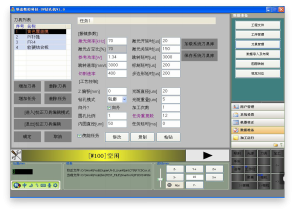 ▶Auto camera offset correction, scanners correction, vision alignment and laser power calibration.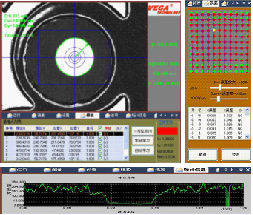 ▶Graphical display scanners positioning deviation vector, easy to learn the scanning deviation map.
Automatic calibration and power tolerance assert
▶Standard configuration with the fastest responsive laser power sensor beside chuck table, facilitating online measurement of laser power and tolerance determination.
▶By periodically executing laser power measurement and calibration process, the software automatically updates the laser parameter condition settings, and avoids the trouble that process parameters must be re-adjusted when the laser power begins to decay.
▶The patent authorized unique software feature, cluster algorithm based smart scan blocking method for CAD data, can improve processing efficiency and accuracy both.
▶(a)Conventional CAD data blocking result, 77 scan blocks.(b)Smart CAD data blocking algorithm, 53 scan blocks.
▶Processing accuracy is higher than most of UV laser cutting products in market.
Granite-based structure design
▶Granite based design, enables very small vibration and laser beam drifting, thereby achieving high laser processing position accuracy.
Large FL telecentric focusing lense
▶More productive, and best quality process for micro-via drilling/segments/round corner cutting.
▶Two cameras configuration, real-time image capturing, taking into count both large FOV navigation and small FOV accurate vision alignment.
Large area vacuum chuck table
▶Linear motor driven large stroke XY motion stage, 550*650mm large area vacuum chuck table, benefit for large board and multi-pattern small panel productive micro-machining.
Flexible Lasers Configuration
▶Customers can choose 15W DPSS lasers from Spectra-Physics/PI or other Suppliers.
Machine Item

Super UV-R

Application field

It can be used in microvia drilling, depanelling and contour-cutting application of Coverlay/FPCB/Flexible-Rigid boards.

Maximum Processing Size

550mmx650mm

Laser avg. Power

10W@30KHz UV (Optional 15 w)

Laser repetition rate

30KHz-100KHz

X/Y Stage Positioning Speed

30 m/min

X/Y Stage Positioning Accuracy

±5 μm

Max Scan area

50mmx50mm

System Processing Precision

±20um(VEGA testing condition)

Laser focusing beam diam

20±5 μm

Vision System

Main Camera: FOV 6x4.5mm

2nd Camera: FOV 45x60mm

File format

DXF/Excellon

Environmental Temperature

22 ℃ ± 2 ℃

Environmental Humidity

50%~60%(non-condensing)

Power Supply

AC380V 50Hz/6 KW(3KW power of dust collector included)

Air requirement

5-6 Bar(No moisture and oil)

Dimensions(L×W×H)

2160 mm x 1630 mm x 1800mm

Weight

3200kg

Ground vibration

<5 μm

Vibration acceleration

<0.05G

Ground pressure

2000Kgf / m2